Please pass Boomer eZine on to a friend. They will thank you for it.
If a friend passed this to you, you can start your own subscription at www.boomer-ezine.com. Complete the subscription form and you will receive a free copy of "How to Choose The Best Web Host for YOUR Website".
Table of Contents for this issue.....
2. Q & A, Suggestions and Comments
3. Site Build It Holiday Special Extended
5. Differences in Search Engine Rankings
6. Text Email versus HTML Email
7. Being First is not Always Best
Happy New Year!
Christmas has come and gone and so have all of our children, grandchildren and their pets. Linda's mother also came to visit.
It was a busy and joyous time for all of us. Here is our family Christmas picture.
Q & A, Suggestions and Comments
If you have anything for this section or you have a suggestion for a topic for an article, please use this suggestion form to give us your suggestions and/or your input. With your help, we can improve the Boomer eZine. This link will open a new page. Close the page to return to Boomer eZine.
Site Build It Holiday Special Extended
The two-for-one Site Build It special has been extended until January 4, 2008 .
If you want to make 2008 the new beginning of your retirement, take advantage of this special sale. I only make recommendations for products that I use and know work well. Site Build It is a product that I fully endorse. It will make a positive difference in your life like it has in mine.
Our Retirement Jobs Online.com site generates us a nice cash flow every month. Our new site, the-best-gps.com had a great 2007 Christmas season and promises to be even better in 2008. The income from these sites is a welcome addition to our projected income from our retirement savings.
Site Build It has a 30 day money back guarantee. Buy it and try it. You will thank me for recommending it when it is working for you.
Here is your last chance to buy two SBI sites for the price of one.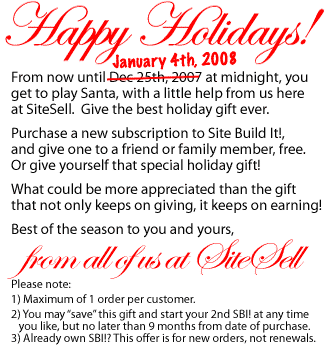 We wrote a brief piece on Stumbleupon (SU) in our last issue and promised more in this issue.
Let's start our article with a definition from Wikipedia:
"StumbleUpon is a web browser plugin that allows its users to discover and rate webpages, photos, videos, and news articles. These webpages are typically presented when the user -- known within the community as a Stumbler -- clicks the "Stumble!" button on the browser's toolbar. StumbleUpon chooses which new webpage to display based on the user's ratings of previous pages, ratings by his/her friends, and by the ratings of users with similar interests. i.e. it is a recommendation system which uses peer and social networking principles. There is also one-click blogging built in as well. Users can rate, or choose not to rate, any webpage with a thumbs up or thumbs down, and clicking the Stumble button resembles "channel-surfing" the web. Toolbar versions exist for Firefox, Mozilla Application Suite and Internet Explorer, but also works with some independent Mozilla-based browsers."
eBay bought Stumbleupon of in May 2007 for $75 million USD.
You know that we are very high on Site Build It (SBI) as a web host. We have copied the following from a page in the HELP section of SBI since it is a very complete explanation about Stumbleupon and how to use it. This is just one example of the help that SBI provides to its user's. Do you know of any other web host that provides this detail help to make your site successful?
The following is quoted from Site Build It:
Using StumbleUpon to Build Traffic
StumbleUpon (SU) is a social bookmarking site that became popular enough for eBay to purchase it. There are now (at the time of writing) over 3.7 million "Stumblers" voting on and reviewing Web pages that they find. (Editor's note: On December 28, 2007 the number had increased to over 4,100,000.)
Once you're a Stumbler, if you find a Web page you like, you can vote for it (give it a thumbs up) to add that page to the millions already available through SU. Or you can "stumble thru" those millions to find pages that interest you. You do both by adding a toolbar to Internet Explorer or Firefox if you use Windows, or Firefox if you use a Mac (SU doesn't work with Safari or IE on a Mac).
SU isn't just a social bookmarking site, though. It's also a simple social networking site. You create a page that lists your interests. The Web pages you like in SU are added to a "blog" that anyone can view. And on SU, if you like the pages that other Stumblers submit, you can become friends with them. Then you'll always be notified when they submit new pages, and they'll learn about yours.
So where is the value for you in using StumbleUpon? Well, once you have the SU toolbar installed in your browser, you can navigate to one of your own site's pages and click on the "I like it!" thumbs up icon to add it to the SU database.
As Ken says, "Keep it real." Don 't give every page of your site a thumbs up. Other Stumblers can see the list of pages/sites you like. If all of them are from your site, alarm bells will go off. Keep a high ratio of other-site pages to your-site pages (50:1 or even 100:1 -- it doesn't take long to reach those levels) and you'll be contributing to SU rather than using it. (Editor's Note: Ken is Ken Evoy, creator of Site Build It).
Your page is added to the growing list of sites and pages available for all Stumblers to view. And since the average number of pages viewed on a site found through SU is 1.8, most people will look at least one more page on your site. If they really like what they see, they may view more pages or even become a customer.
SU has a feature that makes it more likely that people will find your pages. All Stumblers can select the topics they're interested in. If your pages fall under one of those topics, Stumblers with that interest will see your page sooner rather than later.
Once they land on your page, they have the option of giving it the thumbs up, which helps SU provide other pages similar to yours from its database (a thumbs down means they don't want to see more pages like that one).
After giving it the thumbs up, they also have the option to write a review about your page. Reviews are less common than votes for any page, so any review your page or site receives carries weight with other Stumblers.
If others like your page(s), you'll gain links to your site. Your link will appear on the "blog" for each person who gave your page a thumbs up. However, all links have the rel="nofollow" attribute, so they won't help you gain Google PageRank.
So focus on using SU for the traffic you'll receive and the relationships you'll build, rather than for the links back to your site.
Some SBIers have been having success with SU. See this forum thread...
http://forums.sitesell.com/viewtopic.php?p=328447#328447
Editor's Note: You cannot read the this from the forum unless you are a Site Build It affiliate or a Site Build It owner. Joining the SBI affiliate program is free. Follow this link to join the Site Build It 5 Pillar Affiliate Program. The link will open a new window. To return back here, close the window once you have joined.
Getting Started
Before you can add the toolbar to your browser, you need to set up an account. This process is a bit confusing, so you'll have to pay attention to the details. Safari users: Switch over to Firefox now to complete the registration process below.
Go to http://www.stumbleupon.com and click on the large orange "Join StumbleUpon Today" button.
Enter your e-mail address.
· Choose a username (letters and numbers only). Click on the Check availability text link to see if your username is available. You'll see a red alert if the one you want is already taken. If it's available, you'll see a small green circle with a checkmark.
Select your birthday from the three drop down menus.

Select your gender.

Enter the two words that you see in the challenge graphic.

Decide whether you want "friends" to find you by your e-mail address, and whether to show Web site ratings and reviews next to search results (this one can be useful, as ratings and reviews are added to any results pages for searches you do from your browser).

Finally, click on the orange "Join and Download Now" button.
On the next page, you can import your e-mail address list to see if anyone you know already uses SU.
Registration also logs you in automatically. Before you do anything else, check your e-mail. SU should have sent you a message containing your username and system-generated password. Without that password, you won't be able to get back into SU.
Now it's time to install your browser's toolbar.
In that same e-mail message, there's a link to get your toolbar. Click on the green button (or the text link) to go to the installation page for your default browser (IE or Firefox). (Safari users: if clicked URLs open automatically in Safari, you'll have to Control-click to copy the link in the e-mail, then paste it into Firefox).
Install the toolbar and you're ready to start stumbling!
The toolbar has one very nice feature: Log Out and Log In. The SU site has no log out function unless you return to the Login page (http://www.stumbleupon.com/login.php) and log out from there.
To avoid all that extra work, you can either remain logged in, or log out using the toolbar. If you log out, click on "Start Stumbling..." or "Sign In" to log in again.
Enter your password and the toolbar expands.
You can also change your password using the toolbar. That will make it a bit easier to log in every time.
Stumbling
Now that you have your account and your toolbar is installed, it's time to find some sites you like. Do this before you add your own sites. Not only will you appear less likely to be spamming SU; you'll get a sense of how the system works.
After logging in, scroll down the right side of the page, to Manage your interests. Click on the link to see a large list of categories and subcategories. Choose those that interest you. For example, if one of your interests is sewing or quilting, you'd click on Hobbies, then add a check beside Sewing/Quilting.
Once you've made your selections, click on the Save Preferences button. You can always add more later.
You're now ready to
Click on the word "Stumble!" and SU will show you a page related to one of your topics. If you like it, click on the "thumbs up" icon. If you don't like it, click on "thumbs down." Or don't choose. Click on Stumble again to see the next page that fits one of your topics.
Once you have the hang of it, instead of clicking on "Stumble," go to a page on your own site. Click on the "thumbs up" icon and add the page to the SU database. (If your site has been around for a while, one or more of your pages may have already been added by another Stumbler.) Now that the page is in the database, other Stumblers with the same interest as you will eventually see your page. And a potential customer is born!
For more information on StumbleUpon, see the official SU guide at...
http://www.stumbleupon.com/guide.html
There, that is a pretty complete explanation about SU. This is the detailed help that you get from SBI.
If you remember the article from last month about SU, it directed 93 visitors to Retirement Jobs Online.com (RJO) in November. That traffic came from an experiment that a friend did with SU and the majority of it came in a 24 hour period after he posted a rating for RJO on SU.
This month (December 2007), SU has sent zero visitors to RJO so to really make SU work, you need to stay active with it which I have not done due to the rush of the Christmas season.
To learn the basics about SU go to the About page on SU at
http://www.stumbleupon.com/about.html
We welcome comments about your experiences with SU. Please send us your comments on it using our suggestion form.
Differences in Search Engine Rankings
One of the most frustrating things about managing a website on the Net is dealing with the whims of the search engines (SE's). If you want free traffic, you must learn to deal with them.
We have worked hard with our Retirement Jobs Online.com (RJO) website and with SBI's guidance, we are in a solid number two position on Google for the keyword "retirement jobs". As of this writing, here are the rankings for RJO by the major SE's:
Google

No. 2

MSN/Live

No. 4 (retirementjobs.com has the first three listings)

Ask

No. 2

Yahoo

Not Listed
Why is RJO not listed on Yahoo? We have a saying in South Texas , "¿Quien sabe?" which is Spanish for "who knows".
We have followed all the suggestions about Yahoo from SBI and from other sources on the Net. We have submitted the site to Yahoo. We have a standard site map on RJO to help the SE's. So you can see what a site map looks like, the RJO site map is located at:
http://www.retirement-jobs-online.com/gAe7FNB6.xml
Another plug for SBI, we do not have to maintain this site map. SBI does it automatically and submits it to the SE's for each new page or each time a page is updated.
Some of the sites that are rated high on Yahoo for the keyword "retirement jobs" are not rated high on Google or the other SE's.
Yahoo has paid submission features. You can submit your site to the Yahoo Directory Submit Program for a $299 annual recurring fee.
Another option to make certain that your site has been reviewed by Yahoo for inclusion in the search engine results is Search Submit which costs $49 per URL per year. I signed up the retirement-jobs-online.com site for Search Submit on December 11 to see if a little money would make any difference in the results position. So far, it has not.
Here are the top 10 Yahoo results for "retirement jobs".
retirementjobs.com (2 listings)
newretirement.com (2 listings) – Directory Listing
retiredbrains.com
pppretirementplans.com
goarmy.com – Directory Listing
retirementliving.com (2 listings) – Directory Listing
hotjobs.yahoo.com/retirement – Yahoo commercial site
It is interesting that newretirement.com has paid the $299 for a directory listing and has two search results listings. Also, goarmy.com and retirementliving.com have directory listings. The theme of these two sites does not really seem to focus on retirement jobs.
The pppretirementplans.com website is an SBI website run by a friendly competitor, Dave Wright, who does a great job with his site. He deserves to be listed in the top 10.
I will wait to see if our RJO website shows up on Yahoo any time soon. Even though Yahoo says that listing in the Yahoo Directory has no bearing on the search results on Yahoo Search, I find it interesting that Yahoo is so far out of step with the three other search engines and Yahoo Directory listed sites are ranked in the top 10.
I tried an experiment this month with HTML email that told me to stick with text email in the future.
Most of you should have received a mid-month email about the "two for one" sale on Site build It and about Amazon gift cards. This email was sent in HTML format. HTML has the advantage of being able to contain pictures, bold text, variable sized text, and overall, make the email much more attractive. We would really like to be able to "dress up" the emails that we send each month with information about the newest issue of Boomer eZine.
The downside to this is the red flag that an HTML email raises with the SPAM filters.
We use Aweber.com to manage our mailing lists and handle all our mailings for Boomer eZine. It is a great autoresponder and we highly recommend it.
As an aside, Site Build It has a mailing list manager and autoresponder built in as part of the annual fee. However, we started Boomer eZine on Aweber.com before I discovered SBI so we have left our mailing list on Aweber.com.
Aweber.com has a feature that checks your email message for items that will trigger SPAM filters. It will give you a numerical score of its evaluation as shown in this picture of the score for the experimental email.
The normal score that the monthly text format emails receive is 0.5 so this is higher than the text format, but supposedly if the score is below 5.0, you are still OK.
Aweber has another feature that allows you to send your email to your own email address to test and view your message. I sent this to myself and my own email filter flagged it as SPAM with a score of 2.1.
Another advantage of HTML format on Aweber is that Aweber will tell me how many of the HTML emails were opened which is not available with text format. The open percentage of this email was 26.7%. Aweber also tells you if there were any clicks on the links in the message. This figure was 8.0%.
The HTML format email is much more difficult to compose than the text format. The placement of the graphics, the validation of the links, the text formatting, etc. all add up to much more work than a text format email.
Bottom line… This is the reason that we normally send the notice of the latest issue of Boomer eZine in text format.
· It flies below the radar of the SPAM filters.
· It is easier to compose.
· It draws our readers to the Boomer eZine website where the Boomer eZine is presented in HTML format.
Think hard about sending emails in HTML format. It has its pros and cons. You will have to decide for yourself if it is worth the effort and the challenges of getting past the SPAM filters.
For more information about Aweber.com.
Being First is not Always Best
That sounds contradictory! First is always best. Right?
Well, my experience with pay per click advertising says that is not necessarily true. Let's discuss a case study from my experience with MSN/Live search.
Here is a picture of the Live search results for a TomTom One GPS unit. My ad is third in the first three ads which appear in the light gray box at the top of the page. You would think that this would be a great location.
I found that this very prominent location received many clicks from people surfing the net who were not really interested in purchasing a TomTom. Each of these idle clicks cost me about $.50 USD.
When I realized that the position was a problem, I lowered the bid price per click on 12/19 which moved the ad to the right column of Sponsored Sites.
I think positions 4 or 5 are better positions. The ad does not get as many clicks, but the reader who takes the time to read down to the fourth or fifth ad is a serious buyer and not just a "clicker". Your net profit should be better since you should pay a lower price to get your sales.
I lost money on the TomTom campaign. I sold six TomTom One units for a commission of $44.48. I paid AdCenter $131.35 for the keywords. I learned an expensive lesson.
Of the six units sold, two were sold before 12/19 when I changed the position and four were sold on or after that date. Fewer clicks but more sales by serious shoppers.
Now let's look at the campaign for the Garmin Nuvi 350 GPS. This one was much more successful. I sold 14 units for a $170.44 commission and paid AdCenter $27.14. The key difference was the position of the ad.
Here is a picture of the clicks and impressions by date in December 2007.
Notice the upswing after Christmas. I believe people were home and had time to get on the Net. Also, some people could have been shopping to spend the money they were given at Christmas or to use a gift card.
Another factor was the position of the ad. After Christmas, many competitors lowered their bids which caused my ads to rise in position. I have now lowered my bids to control this.
Here is the telling graph. This shows the position versus the click through rate. The position for this ad was in the 7 – 9 range most of the time.
If you are running PPC campaigns, be aware that the number one position is not always the best place to be. It can cost you idle clicks without conversions.
My Christmas season was a good one and overall I made money with my campaigns. I would have made more if I had not let the TomTom campaign get away from me. Lesson learned.
Linda and I join to wish you and yours a very Happy New Year.
That wraps up this issue. Until next month, stay tuned.
John and Linda Howe
http://www.entrepreneur-ezine.com
(http://www.boomer-ezine.com/Amazon_Page.htm)
---
Administrative Details …………….
If you are changing email addresses in the future, put a note on your calendar to send us a blank email after you have changed your address. Send the blank email to: boomerezine001@aweber.com. We want you to remain a subscriber to our newsletter!
It is OK to go ahead and join our subscriber list with more than one email address. You never know when an email will be blocked these days. The SPAM filters are getting tighter and tighter and are blocking many legitimate emails.

If a friend sent you this newsletter, you need to send a blank email to:

boomerezine001@aweber.com

and we will send you your own copy on the next issue.